We were not in a Struggle for Custody we were in a Struggle to Stop the Child Abuse –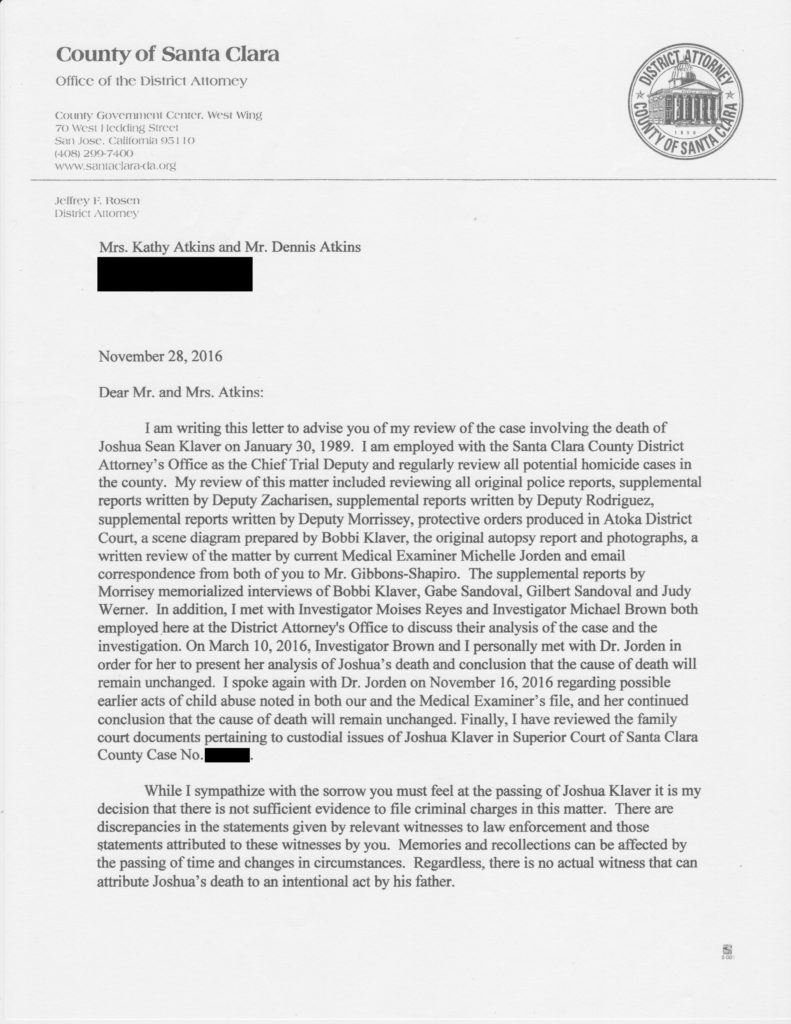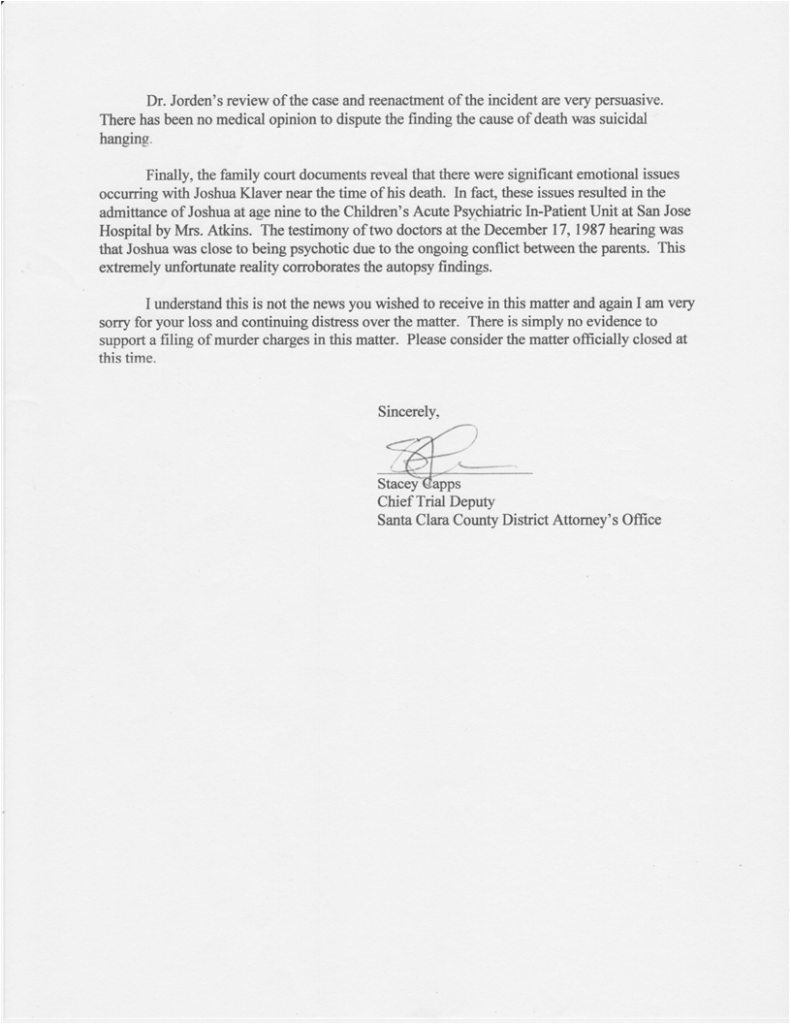 Getting this letter was like hearing the system tell me that you shouldn't have fought,  you should have left the abuse alone like everyone else but since you fought it this is the kind of thing that can happen when you do such a thing  ,  sorry      When I received this notice I was in the process of having a reporter get statements from witnesses the Sheriff Office and DA refused to speak with even through I asked them to
I find myself in a place of questioning a system that I already do not trust or respect, I was ready for the decision they made just from knowing so much about this investigation and dealing with this system for so many years,  there was no science involved in realizing that KW would not be brought into a courtroom just years of bad police work as they refused to look at information placed before them once again.  But the wording of the letter they sent me is what I was not expecting but should have because the system in California and I go way back to the days where we demanded the court force KW to stop abusing Joshua and for a sweet moment in time they did until they found ways around the court mediators findings to allow him to feel free to abuse Joshua and others and the system in Santa Clara County knows this very well because the Sheriff's Office watched for years.  Sheriff Smith told me this in 2008.
Also after Joshua's death during the 1990 child death review board meeting where Joshua's social worker and her boss who pulled our court records shared it all for them ..and while this sharing was going on in the CDRT meeting that I did not know about until 2008, while I was talking to Dale Sanderson and filing serious complaints not just about KW but the system, the Sheriff office at the DA Office ..What I received was Mr Sanderson pointing a finger at Bobbi Klaver's secrets in 1990 like he would do again on the podcast . . One day Bobbi will leave him and spill.. .that was my investigation into Joshua's death then and now from the DA's Office after telling me they couldn't get any further information from the Sheriff's Office, I called bullshit then and I stand by that now, the DA had Joshua's social worker and her boss, the head of social services for the whole county in front of them in 1990 and they did nothing but tell me maybe Bobbi will spill one day and they like the Sheriff Office shut me down and they had the nerve to send me this letter after once again they refused to speak to the deputies at the scene, Joshua's social worker nor the Klaver's neighbors who were on the property that night.  The DA had to force Sheriff Smith to reopen the investigation after she lied to them, she told them that Bobbi had been questioned and there was nothing so they closed. .Bobbi had not been questioned yet after 18 months of harsh and detailed complaints going to them about the corrupt investigation,  you don't see any of this in the letter
The DA's Office labeled the cause of Joshua's mental health pain as the ongoing conflict between his father and I thoughout a long custodial  battle. They used the wording possible past child abuse not the ongoing conflict because of the child abuse that is documented as fact in our court file and documented by the Child Death Review Board's findings in 1990 & 2014. . The DA  picked out the part in our court record were the Judge used the words close to psychotic (please go to the Meet our Judges section for more details on Judge Fogel and his label of Joshua)  and used that to say it was caused by KW and I fighting all the time,  I did not fight with this man, it became too damn scary to step in that,   We carried a healthy amount of fear to keep us from engaging in that kind of behavior with him or Bobbi as the system left us on our own.   We all know what caused Joshua to struggle so the DA saying possible past child abuse is a insult and by slapping me with this 2 page letter makes them look foolish and unprofessional as they gave no notice that what Judge Fogel declared from the Bench and what Joshua's doctor's said in testimony are not the same.
After years of knowing about the abuse, Judges reversing decisions made for Joshua's safety based only on complaints of I don't like this made by Joshua's father KW Klaver,  Joshua's abuser.  .  A Sheriff's Deputy. . Judges passing Joshua from one Judge to another. The system did everything they could to keep the court process from interfering with KW and Bobbi Klaver's careers in Law enforcement that left Joshua unprotected and left my husband and I to be the only ones to say NO MORE to the Klaver's as the abuse continued. This Family Court after many years stated that KW and I not working together to support Joshua's mental health care and not getting along is harming Joshua and causing his mental health issues. . The Klaver's did everything they could to sabotage Joshua's mental health care to protect themselves for years and that was reported to a Family Court that didn't give a care but the DA shoved this in my face in the closing letter as the reason Joshua possibly killed himself, the reason why my son Joshua possibly put a rope around his own neck at the age of 10 and hung himself from a rack in the part of his father's barn that was used for slaughtering wild game and livestock because I dared to stand against the man who was abusing him and the System that allowed him to do so for years . . By doing this they set forth a very clear message to me and the public that if a mother is trying her hardest to protect her child from being abused by the other parent who is protected by the system he works for and the child is harmed or harms themselves she is just as responsible for the child's death as the abuser.
The supervisors or chief may encourage you to tell them what's going on, but then react defensively when you do. They may tell you that their hands are tied as to what they can do unless you file a formal complaint. They may explain that they really cannot interfere in the officer's private life. They might remind you that "police officers are human just like everybody else; everyone makes mistakes," encourage you to "forgive and forget," and strongly suggest that "the two of you try and work things out." (This "two of you" implies that you are just as much at fault for his behavior as he is.
The letter outlines the 2 year and 8 month investigation and what they did . .Highlighted below – Compare it to the Mercury News podcast that is posted to see what they should have been doing
# 1 -They spoke with Judy Klaver, KW's 1st wife about the abuse of Joshua she witnessed, information she withheld until she exposed details of the abuse in a phone call I made to her in 1985 and then testified about what she knew in Family Court
# 2 – They spoke with two of Judy's son's about the abuse they witnessed , one is a Santa Clara County Sheriff Deputy who testified in Family Court about the abuse. .Judy and her son's had not seen Joshua for years before his death, they could speak of what they remembered about the abuse with no knowledge of his life closer to his death but they were highlighted in the rejection letter as a huge part of their investigation. Judy and her son's were questioned 17 months after the case opened in 2014.
# 3 – Then after 18 months the investigation talked with Bobbi Klaver in person and everything she had said in her phone conversation with the Sheriff Department investigator in 2014 became foggy to her even though at the very beginning of the investigation the Sheriff's Department told me they had spoken with her on the phone and they and I should be PLEASED with what she had to say and the investigation would be moving forward and then they sat on that information until after Sheriff Smith won her reelection in 2014 and for another 15 months until Bobbi feared she would be in legal trouble herself and lost her memory.
# 4 – They spoke of Bobbi Klaver's statement that was so very kindly taken to the point where they allowed her to bring a friend, a ex buddy of KW's, a retired police officer and her confidant who became her stepfather years after Joshua's death into the room, She claimed at this interview of not remembering details of the past, The witness does not back up the statements you gave law enforcement the DA's Office said to me.
# 5 –  The investigators contacted Atoka Oklahoma County records to look at legal records of issues that happened between KW and Bobbi Klaver after moving from their home in San Martin, California many years after Joshua's death.  These personal issues between the Klaver's in Atoka, Oklahoma had nothing to do with Joshua's death and was a completely waste of time for this investigation. Then as I gave thought to this grand investigative process of theirs I noticed that I didn't see a word about all the years after Joshua died that the Santa Clara County Sheriff Department responded to domestic violence calls made to their home in San Martin but they felt a need to highlight this fine act of police work they conducted in the records department in Atoka, Oklahoma in the letter,
# 6 – They highlighted the Medical Examiners Office ( Reenactment of Joshua's death ) by going to the barn and deciding because of Joshua's weight and height at the time of his death and relying on the KW's words of the scene from 1990 that he could have climbed up into the butcher rack area with a lead rope and hung himself – Reenactment Over *  I wanted a investigation that could have been brought into a Courtroom and from the beginning the writing was on the wall as I told them that the rope information Bobbi Klaver gave them was not from her memory –  But they still made a few legal documents using this information.
# 7 – The DA's Office spoke with investigators both from the Sheriff's Office and their own, who in the course of their investigation read my informational and at times extremely long and harsh emails to the Sheriff's Department and DA's Office and had two chats with Dr Jordan, Chief Medical Examiner and the women who placed Joshua's life and his death before the Child Death Review Board in 2014 – – 25 Years after his death. Thank you Dr Jordan , I was not in agreement with the reenactment because how it was done was just stupid, I really can't think of a better argument but she is one of two women in the system who stepped forward for Joshua, the first being Margaret Simpson, our first court mediator.       . The first time his death was placed before the Review Board was under the watchful eye of UnderSheriff Laurie Smith in 1990, who is now the Sheriff of Santa Clara County.
# NOTHING MORE ~No deputies from the scene, no social worker, no judge, no neighbors and no questioning Bobbi for 18 months , they waited long enough for her cop nerves to set in and by the time they were done typing up their report I seemed to have reported a false claim to the system that caused them to open a non ending HOMICIDE investigation ,  I do believe the DA's Office accused me of a crime. .    It took them 2 years and 8 months to do these things listed above and Joshua's father was never approached in this investigation.
My Thoughts – They conducted the reenactment based on false information and they knew it – They used reports produced  22 months after Joshua's death by UnderSheriff Laurie Smith in 1990 for the child death review board, The Sheriff Office had nothing to turn over to them because of the refusal to investigate Joshua death, no photos of the scene, no interviews, and the scene information was described to the Sheriff Department in 1990 by their co-worker-  Joshua's father, his abuser.
They found the nerve to reach into the past and use the document the Sheriff Office produced for the CDRT in 1990 and make it part of their reenactment.  They said from contact with Bobbi after the 2014 investigation opened that she described the rope and picked it out of photos on line, thats a lie !  Bobbi Klaver did not remember what the rope looked like, the thickness or the length of the rope – She knew nothing and had a friend pick out the photos for her based on what this friend saw on  KW's property 25 years after Joshua's death, I told Dr Jordan and the Sheriff's Department this before they conducted their reenactment but they did not care.   They wanted to conduct a process that fit a fictional view of what happened. The whole reenactment was based off the Klaver's lies from the past and now Bobbi's lies once again about her knowledge of what the rope looked like and they all had no problem choosing that route.   I wanted a investigation done that could be brought into a courtroom and right off the bat they knew Bobbi could not recall detailed information about the rope and they put it in their reports that she did anyway.      They picked Joshua's path that fit their fictional narrative of what happened that was given to them not from a investigation but from thin air that held no documentation of true facts .  .they used the words of Joshua's father and his wife from 1990 to conduct their reenactment and to conduct this grand and courtroom ready reenactment the Medical Examiner and the Sheriff Office investigator needed to borrow a dining chair from the home of the family living there now.
When Joshua died they did not secure the rope to turn over to the Medical Examiners Office, They did not check under his nails for defensive residue considering he had bruises on his shoulder and abrasions across both knees and a history of child abuse in that house and they did not check to see if his footprints were even on the dusty folding chair that was kept in the barn that KW claimed he used .  I know a lot now about what happened the night Joshua died and what was happening in that house leading up to Joshua's death.  .All the heartbreaking things that have come out of Bobbi Klaver's mouth after all these years . . But I can't legally print the detailed information because after leaving her out there for 18 months she decided to call the claims I reported to law enforcement of what she said as not true in her legal statement.  The DA's letter it states > There are discrepancies in the statements given by relevant witnesses to law enforcement and those statements attributed to these witnesses by you.  Even though what she told the investigators when the case first opened in 2014 caused them to say to me that they were Pleased with what she had to say and so should I be and based on the phone call statement she made the investigation would be moving forward,  Moving forward never happened and the Klaver's are able to keep their actions legally tucked away once again because of this unjust and unprofessional investigation .   .
The System has given me NO Choice but to have so many questions – I can see the truth through all the their lies and the misconduct involved but the system is not willing to look too closely at themselves out in the open.  I do not believe for one second that Joshua killed himself, I never have and after hearing on the podcast about Bobbi Klaver's multiple I don't know's, Joshua's social worker , Sheriff Smith's possible cover up statement on the same podcast, all the devastating information she withheld years ago and the Sheriff Department left her out there without getting her statement legally taken and recorded for 18 months and when that time came she choose once again to withhold information  – the key witness and they left her sitting out there and we lost her true statement.
As a officer of the law Bobbi choose the protection she offered and gave freely to KW years ago as they both wreaked  havoc on our lives, on poor Joshua's life while the legal system watched and that same system 25 years later that is the DA and Attorney Generals Office who allowed the Sheriff's Department to conduct this unprofessional investigation .   .Year's ago it was the Family Court, Three Judges – -Judge Leslie Nichols – Judge James Stewart and Judge Jeremy Fogel –  CPS – The DA's Office – A Sheriff's Department that protected their own as KW abused his family under Three Generations of Santa Clara County Sheriff's – Sheriff Winter – Sheriff Gillingham – Sheriff Laurie Smith and at the time of Joshua's death the Department refused to investigate.
Child Death Review Board's Findings > Below
The DA also knew that the Child Death Review Board reviewed Joshua's life and his death for the second time since his 1989 death in 2014 and their findings were that Joshua was abused, not in mental pain because I could not get along with his father, his abuser . The Board added the child abuse to Joshua's death file in the California State database. This is the Justice the system gave Joshua, a database update.
CHILD DEATH REVIEW BOARD FINDINGS –
This case was also reviewed and discussed at length by the Child Death Review Team (CDRT) on Wednesday JuIy 23,2014 with twenty-two (22) team members including Dr. Michelle Jorden of the Medical Examiner-Coroner Office and representatives comprising Law Enforcement, Mental Health, Juvenile Probation, Public Health Department, Child Abuse experts, District Attorney, Psychiatry, Emergency Medical Response, Neonatologist, Child Abuse Council, County Executive's Office, and Good Samaritan Hospital among others. The findings generated by the Attorney General were also reviewed. The team discussed this case for approximately three (3) hours.
The Child Death Review Team has rendered classification of Joshua's death as a Suicide with a coexisting component of current or past child abuse. This classification will be entered into the State Database.
Not included in the above statistics is the review of a 25-year-old case of a suicide involving a young adolescent who hanged himself at his father's residence. Dr. Michelle Jorden was asked to review this case and completed a review of the autopsy report, autopsy photographs, and investigative reports. She also returned to the scene and conducted a scene investigation and re-enactment using the investigative reports. Remarkably, the scene was minimally disturbed years later and allowed for a thorough re-investigation. An entire CDRT meeting was devoted to the review of this case, and the CDRT concluded the case was a suicidal death but the team also concluded the young boy was a victim of child abuse.