Who is Joshua Klaver
JOSHUA SEAN KLAVER
BORN OCTOBER 4 1978 – JOSHUA KLAVER PASSED INTO THE HEAVENS JANUARY 30 1989
Joshua was loved by so many people, he has four sister's, two daughters of ours and two daughters and a brother in his father's home, also three step-brothers from a previous marriage of his father's, they were not KW's children but Joshua loved these boys so much, they were part of him, his brothers.   He has Aunts and Uncles and my brother's daughters, his cousins, Our friends who loved Joshua as if he were their own and the ones with children who like Joshua's sister's and cousins had just a moment in time with him as babies.
He loved playing with his GiJoe's, transformers and building model planes, jumping around the playground like it was surrounded by quicksand, sharks or both, climbing from one place to another and every time we jumped in the car and at times to my dismay I ended up in the back seat between two car seats as Joshua and my husband Dennis would start it up like it was a spaceship or a military jet plane, going through all the drill calls of turning on the instruments of flight.   Dennis was our children's park buddy and by how our fun time house rules rolled at times Joshua was a huge fan of WWE before it started with Dennis as his partner of Grrr while our daughters giggled out of the way and I did the mom cringe thing.   . He loved the TV show the Greatest American Hero and so many times we stopped doing whatever to sing and dance along with Paul Simon ~ Chevy Chase to You can call me Al  .  .  All the joys of loving him and all the pain of losing him is stored in my heart and the tears that flow from such a loss touch my face everyday . . Joshua you are loved forever and a day, sweet child of mine: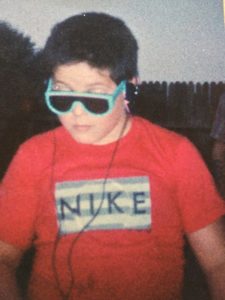 We lost Joshua in 1989, his death was ruled a suicide by hanging, he was 10 years old. His death came after years of abuse at the hands of his father a Santa Clara County, California Sheriff's Deputy, The Family Courts knew of the abuse as did the Sheriff's Department and Child Protective services and Joshua was refused protection before his death and we were refused a investigation into his death.