My name is Kathy Atkins, I am Joshua Klaver's mother.
Joshua's life started off with two parents who were unmarried with no plans to do so.  Not the ideal way to start off life; but Joshua was very loved by so many people.  He was our giggle and the first baby born into my group of friends;  the same people who love him to this day. But I can't share with you about what happened to Joshua without sharing something about myself first.
I had a sweet baby with a man I didn't know well.  I was old enough to know better; but too young to be having a child on my own.  When Joshua was going on three years old something happened in my life and I did not deal with it well.   Just prior to KW's marriage to  a women with children of her own, I talked with him about what had happened to me and what I was was going through.  He and Judy offered to watch over Joshua while I found some balance back in my life.   I love Joshua and I took very good care of him.   While I tried to learn how to breath again, I painfully know that I should have learned to do that with Joshua at my side.  I spent a lot of time with Josh, but not as much as he needed and deserved from his mom;  his primary home came to be with his dad and Judy at this time.   Joshua loved Judy and we did things together with Joshua often.  I would take Joshua for week long visits  then he would head back to his dads; not the best balance for a child but his life was full of people who loved him, three older brothers, Judy's children and he was happy doing the country thing while I regrouped myself and I did
This is what I told myself while I made life changing decisions regarding Joshua's care.   The harshness that happened to me kept banging around inside me and I freely allowed a world of drugs and alcohol to pull me gutter side; where I played for a time, with no respect for myself or many of those around me.  This path damaged relationships with people whom I love.  But what I carry everyday is what started a nightmare of pain for Joshua.   A time when KW and I agreed legally that Joshua's main residence would be with him and Judy I was at my lowest and hitchhiking to court mediation appointments, no home, no job.  I was lost.  I didn't feel threatened by KW at the time, more afraid of the courts.  I think I got that way through KW's friendly reasoning of my failures to me while Joshua was being well cared for with him and Judy.   At times I need to remind myself that there was a long time when Joshua was happy there with his dad, Judy and his brothers.
Even after I pulled myself together I never thought to take legal action for custody and pull him from the solid bonds he had with those boys, the thought was a move to Morgan Hill would be needed when Joshua started school which we did when he was entering into first grade after spending the summer with us.   I have always shared this information starting with the court appointed mediator who did a full therapeutic investigation on both families along with CPS before trial.  It was a time that changed Joshua's life and I felt I needed to share with her how things changed for Joshua and it's part of our court file because I placed the information before her myself.   It was not an issue documented or claimed by KW and his lawyer in the court records.   I found myself feeling with Joshua in the country, with his brothers and animals that it was the right choice at the time then everything fell apart.   When KW changed his behavior it impacted everyone's life; but nothing like Joshua's, it's when his happy started to go away.  The first child abuse complaint came directly from Joshua's school in June 1984- The Sheriffs Office responded but I was never notified,  I learned of this call after we started legal action when the child abuse was exposed in 1985 – From this moment on the system did nothing to help Joshua, he died January 30 1989.
The 'what could have been if only' is a harsh thing to carry everyday through life.  As I share Joshua's story with you, know that I stand before God always when I think of Josh throughout my day.  It is so very painful to have all the memories in detail swirl in my thoughts at any given moment.  Keep all of this in mind if you find yourself in a place like mine where you are losing yourself a bit too much to drugs and alcohol.   Please know that it is very possible to never recover from that choice.  Never think there is not going to be an aftermath from your decisions that will pour out before you years after you have cleansed your system free from the overload of anything you could get your hands on.  Never think where's my mom again? as awful as that was for Joshua to understand is not the worst thing that can happen while you are high or wanting to be high.  I placed Joshua with his father where his abuse became a family secret, where he died many years later.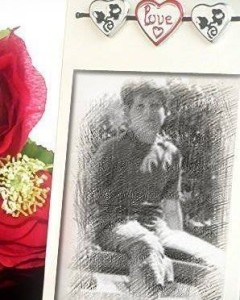 The place I felt was safe for Joshua became a place with no way out, I am very serious when I say this.  Joshua's nightmare became the child abuse and the adult energy that swirled around the exposure.  The Santa Clara County Family Court system,  CPS and the Sheriff's Department were our only way to get the help Joshua needed.  But we were not prepared for dealings with a legal system when it concerned officer involved domestic violence in the 1980's.  KW, Joshua's father, was a Sheriff Deputy and his second wife, Bobbi, was a Highway Patrol Officer.  No one wanted to make decisions that could impact two people's jobs in law enforcement.  It was a home that ended up to be full of silence about Joshua being abused and protection of KW's abusive behavior was widespread.  There was silence that came from KW's wives, a silence that flowed from one to the other in a breeze as one left and the other stepped into Joshua's life until he died.
Raising our daughters in a fog of grieving that I entered and exited from regularly for so many years was painful then starting in 2008 after finding the Klaver Trilogy, posted above , I once again spent a good amount of time making many levels of Government aware of what happened in the past and what I had leaned since  . . .At this time my purpose was not to demand charges against KW, that time had come and gone with the information I had,  I could not prove what happened at their house that night, I had my gut feelings for years like others had but you can not do anything with that ever when the Sheriff Office refused to protect Joshua before his death through 2 child abuse calls to his school and again when he died <  this was a huge issue and my purpose was to expose the actions of the system when it comes to officer involved domestic violence and not just for Joshua, our Country has a huge issue with OIDV. . .that was until Bobbi Klaver's friend contacted me on facebook in 2014,  7 years after I found the Klaver Trilogy on line.   She said she had information about the Klavers and Joshua.  After speaking with her many times  hearing what she had to share has been extremely painful and crushing to process and this is when my purpose changed .
Bobbi Klaver shared about her life with KW with a friend or I most likely would have stopped banging on the system about their misconduct years ago, I'm tired but things keep changing because of words that come out of other people mouths, Bobbi Klaver, Joshua's social worker, the Klavers neighbors claiming Josh was still hanging in a different part of the barn then the Klavers have always said they cut Josh down, Sheriff Smith words on the podcast  . .not mine.  I started this page years ago talking about officer involved domestic violence and how the system protects that by sharing Joshua's story but things have changed over the years since.
After Bobbi shared  is when the Sheriff Office became involved again under much protest from us to the State level and after more misconduct I went to news agencies , local, national, I didn't care but no one responded, no one said wait a minute, what ?  please explain this to me, I was ignored, Even during the new investigation, I was Hey Look at Me – 27 year old cold case opened – OIDV – Nothing and a billboard in the Bay Area was not in our budget but we gave serious thought to it.    Until a local reporter in the Bay Area I placed Joshua's information before said the magic word I have been waiting to hear for so many years > What ? by someone willing to step forward, the San Jose Mercury News.
You might be thinking that Joshua's death after years of abuse and Sheriff Office protection that came from the Top doesn't happened like that anymore.  .yes laws have changed about domestic violence since 1989 but Officer Involved Domestic Violence is still a dangerous issue.  An issue full of silence in our Country, the silence that allowed Joshua's nightmare to continue unchecked still happens today.  Not all child victims of OIDV die like Joshua did, but many sit in the silence of their homes while they live their own personal nightmares.
Joshua died in January of 1989 by hanging when he was 10 years old after years of abuse at the hands of his father, Santa Clara County Sheriff Deputy KW Klaver. The Sheriff's Department had on going knowledge of the abuse for years before Joshua's death; as did the Family Court System, we had judges flip on their decisions, not because the fact of findings became less of a child abuse issue but because they had the willingness to hand Joshua over to his father with the kind of information they had before them.
After years of abuse and many family court interactions we were told by the Family Court of Santa Clara County that the next morning Joshua would meet with a Judge to talk about what he was going through.  Did they place him with CPS for the night? No, did they place him to stay with me where there was no questions on his safety ? No,  The commissioner ordered Joshua to go back to his father's for the night!  She felt it was important that Joshua knew that he can go to his dad's and feel safe.  I was ordered to go home, where Joshua was with my mother and our daughters and prep him for going to his dads for the night, help him feel safe about it and speaking with a Judge the next day about his path then drop him by his father's  I was ordered to do so but we didn't make it home in time after court that day.  Joshua died by hanging an hour after his father and his wife Bobbi took Joshua from my mother minutes before we arrived.  The next morning there was a meeting with a few Judges and both family's lawyers at the family law courthouse. They pondered over what they could have done different over the years to help Joshua, we never heard from them after that.
I found a article on line called 'The Klaver Trilogy'.  The article was written by legal defense for police officers in California.  I go over the article throughout the blog and I have spent a lot of time with the system to learn what happened years ago.  In 2014 Bobbi Klaver shared information that opened an investigation,   I feel strongly that it was a investigation that Sheriff Smith did not want to happen because of the history the Sheriff's Department had with Joshua.  Sheriff Smith left this witness legally unquestioned for 18 months until she became nervous for herself after being put off by the Sheriff's Department enough times that we lost her true statement when she was finally interviewed.   . Please take the time that I would be very grateful for and read my story so you can understand why Sheriff Laurie Smith conducted the investigation the way she did starting just before her re- election bid in 2014.
As I share the actions of other people who touched Joshua's life please know I step forward first;  I am responsible for the decisions I made.
A word on the Mercury News podcast that is posted on my site  – after the Podcast came out and because of the comments made about me being a druggie mom and couch hopping with a infant Josh with me for years I contacted the reporter and the paper about this and Julia's response was I would never say those things about you Kathy but there they were . .I was told they removed such language from the many editorials in many papers from around the Bay Area they own. I still come across them from time to time,  Was the information changed in all the papers  ??  I'm thinking No But I know the information was never changed on the podcast,  I once again threatened to bring legal action but I just stepped away. . .I decided I was willing to take the hit then have the Mercury News pull the podcast if I sued.
https://www.allaboutcounseling.com/crisis_hotlines.htm
National Crisis Hotline listings for addicts or alcoholics, parents of addicts, domestic … Many toll-free numbers and some are 24-hour, 365 days a year. … Children Substance Abuse/Alcoholism | Youth Hotline | 5 Ways to Cope After a Crisis ..
OUR MISSION – http://www.ncadv.org
The National Coalition Against Domestic Violence (NCADV) is the voice of victims and survivors.  We are the catalyst for changing society to have zero tolerance for domestic violence.  We do this by affecting public policy, increasing understanding of the impact of domestic violence, and providing programs and education that drive that change.
.https://www.yspp.org/for_youth/crisis_lines.htm
.
https://suicidepreventionlifeline.org/  We can all help prevent suicide. The Lifeline provides 24/7, free and confidential support for people in distress, prevention and crisis resources for you or your