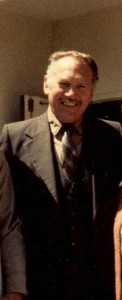 ROBERT E. WINTER (December 1, 1978 – August 1, 1989)
Robert Winter became our 26th Sheriff on December 1, 1978 and retired from office on August 1, 1989, after the Board of Supervisors wrestled away control of the County jails.
Robert was born in Gilroy on August 13, 1930. He attended the local schools in Gilroy until he transferred to Hollister High School for his junior and senior years. In 1954, he joined the Los Angeles County Sheriff's Office, rising to the rank off Sergeant. Six years later in 1960, Robert joined the Santa Clara County Sheriff's Office. He was promoted to the rank of Sergeant in May 1968 and the rank of Lieutenant in May 1969, one year later. In 1973 Robert graduated from San Jose State University. For the next eleven years, he worked in Personnel and Training, Detectives, Patrol, Court Services and as a Watch Commander. At the time of his retirement Sheriff Robert Winter lived in Gilroy, CA
Sheriff Robert Winter was the Sheriff during our years of dealing with the Family Courts and the Sheriff's Department before Joshua's death and he was the Sheriff of Santa Clara County when the Sheriff's Department refused to investigate Joshua death.
Joshua's father shared with someone very close to him at the time that he had a professional relationship with Sheriff Winter from his local business of butchering livestock and wildgame on a person's private property in Gilroy, CA area. I was also told over time they became hunting buddies and Sheriff Winter helped KW to gain employment with the Sheriff's department after he graduated from the training academy. It was explained to me as a close father-son relationship, a man KW had a high level of respect for.